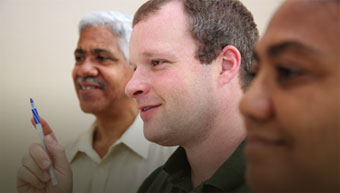 Who We Are
Our Purpose:
We believe that the social well being of California depends on the organizational capacity of key nonprofits. However, the prevailing ways of growing capacity involves each nonprofit doing so in isolation. What too often results are duplicated efforts, inability to scale quickly, and other inefficiencies.
Our mission is to reinvent the ways that nonprofits grow their capacity by creating more collaborative opportunities involving multiple stakeholders.
Our History:
The Capacity Collaborative emerged from an event convened by Consulting Within Reach (CWR) in May 2009. The event was comprised of 20 funders and 35 executive directors – all leaders in their fields. The gathering discussed how the current financial crisis called for nonprofits to build their capacity for individual fundraising.
Under CWR's leadership, a charter group of funders and executive directors formed the Collaborative. The Collaborative is charged with developing new ways for outstanding nonprofits to grow in our changed financial climate. Investing in individual fundraising will be the main focus of the Collaborative in the near future.
For a fuller listing of who we are, see Our Members.
What we're like:
In our relationships with each other, we value transparency and trust.
In our work with each other, we emphasize nimbleness and creativity.
In our self understanding, we aim to avoid this being about any one of us.
Membership
We're currently adding new charter members. However, due to our start up phase, we are unable to offer open membership at this point. Please contact us to learn about our current criteria for membership.